ABOUT ROWAN...
As you can probably guess, this page is horribly out of date.
For example, I'm not 29 any more, my hair is now short, Sensation is closed, I no longer use IRC, and my VCR is collecting dust in a cupboard.
I've left the content as-is just for some sentimental fun.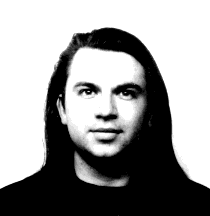 A little about myself
My name is obviously Rowan... I live in Melbourne, Australia, which is the second largest city in Australia. I run the Internet Service Provider (ISP) Sensation Internet Services which provides various Internet services to individuals and businesses in Melbourne. If you're in the area - take a look at the web site!
I'm 29 years old, and I'm about 6'6 (2m) tall. I have green eyes and light brown hair halfway down my back. In my spare time I like going out with friends - whether it be playing pool at a smoke filled pool place or playing Nintendo 64 at a friend's place in 4 player "kill each other" mode. I also enjoy going to see the occasional movie, and I have a small collection of "own your own" videos which I started when I purchased a VCR last year.
I used to go ice skating regularly and then got my own rollerblades. Unfortunately it's been freezing lately and I need to get new wheels, so I'm being lazy and not doing much (extra) exercise. I used to blade from home to the city centre and back at least once a week, which is about 5km each way.
Music is something I really enjoy, I find it very relaxing to be able to settle down on the couch, turn off the lights and grab the remote control. My favourite type of music is Trance, which is a form of techno. While I'm here I'd like to try my own definition of techno, because many people think that the latest boppy top 40 dance track is classified as techno. I don't think it is. I consider techno to be broadly electronic music with a pronounced bass beat, which usually has no lyrics. That's about the best I can do to describe a style of music without being able to play you a sample. I have a modest Sanyo 3 CD tray sound system with a Phillips add on subwoofer which suits this style of music.
Onto another of my addictions... I mean hobbies. IRC (Internet Relay Chat) is an Internet application that lets people from all around the world chat together in channels. It's something like a CB radio, except on the computer, and people can all be typing simultaneously. It's quite addictive - I first ran into it in early 1994 when using a shell account. IRC is a really good time waster. I do have the advantage that much of my job can be done from my computer, so I can flip between IRC and a telnet session or web site to get something productive done. People often wonder if I'm actually on IRC because I tend to speak fairly infrequently, but I'm often watching. :-)
I use the oz.org IRC network, some of the servers you can try are:
mpx.sydney.oz.org
aussie.sydney.oz.org
southcom.hobart.oz.org
anything else ending in ".oz.org" or ".au.undernet.org"
The nick I use online is a fairly What You See Is What You Get one - 'rowan'. Wow! I'm usually in the channels #newbies and #sensation.
Marlee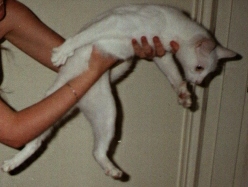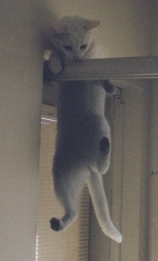 Marlee walked into my world on December 20th, 1997. At the time she was supposedly 6 weeks old (as required by law), but I wouldn't be surprised if she was younger. That particular day was a real scorcher (somewhere around 40 degrees C, over 100 degrees F) and we were both exhausted so we had a nap together, with her tiny little body resting on my shoulder. She's a bit bigger these days as you can see by the photos, but still quite a small cat. Marlee was quite timid when I first got her, perhaps because she had been mistreated or maybe because she was scared of Elly, who was already a well established member of the household! Over time she became a lot more affectionate, and once she gets to know you she's a very loving and friendly cat (well... she is to me, anyway. ;-) ).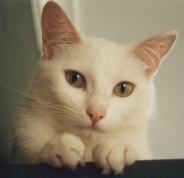 Marlee is an all white cat, although she used to have a "grease patch" of black/grey on her head, which seems to have disappeared...
You can see by the photo to the left (12th Jan 1999) that Marlee is still quite small, and feisty! On the right (July 1999) she's climbing a fly wire door. "Where do I go now?" Her full name is "Marlee Martian" as her eyes make her look like a cute little bug eyed Martian.
Elly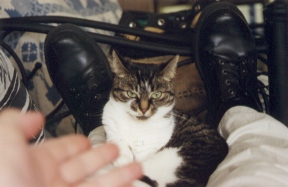 Elly is the original "cat of the house." She arrived sometime in late 1996, and she's also a small cat for her age. Is there something I'm doing wrong with bringing up my cats?!
Elly is a tabby with white belly, paws and tip of tail. She has golden yellow eyes with a slight bluish/greenish tinge around the pupil.
Some of Elly's more memorable moments include picking up 10c coins (no other sizes, she's fussy) and dropping them into my shoe; jumping up and catching a CD frisbee'd over her head; chasing Marlee around the house.
To see more pictures of Elly, go here, or click on her pic.
HAIKU
life can be a bitch / not so bad with one you love / devoted kitten
kitten licks herself / give me some vitamin D / cough up a furball
kitten wails at 6 / never satisfied is she / but still I love her
top of monitor / strange place for little elly / "least it keeps me warm"
Murrindindi

Murrindindi is a little town (shire?) in Victoria somewhere, about one and a half hours drive from Melbourne. I was introduced to it in late 1998 and immediately fell in love with it. There's a river running through the property, and fields with cows on either side of the house. The view is wonderful, and on the colder (and dryer) nights you can build up an open fire next to the river. There's even a trout farm just upstream and a guy who has his own aircraft that he flies from his private runway (visible from the property).

It's good for relaxing and just enjoying the country - coming from the city and living in a unit I don't really get to laze around in the sun or go for a 10 minute drive to a national park. The sounds in the morning are magnificent - birds start their song shortly before the sun rises.

These are some sample pictures from a visit in July 1999. If you're interested in seeing more, go here, but be warned that the web page may take a couple of minutes to download!
There's also some pictures on the Restless Wandering page.
Nerdy stuff
I have a few projects happening at the moment. Here are the more long term ones:
---
[Back to home]